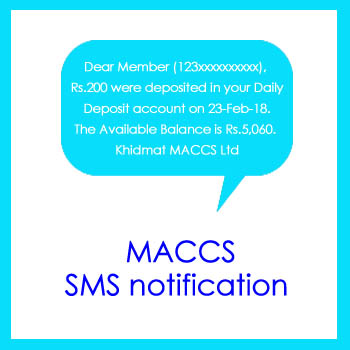 We are happy to announce that MACCS has started SMS notification service. For transactions such as deposits, withdrawals, loan disbursement, loan repayment, share/fee payment etc., members will be notified through SMS.
Sample SMS
Dear Member (123xxxxxxxxxx), Rs.200 were deposited in your Daily Deposit account on 23-Feb-18. The Available Balance is Rs.5,060. Khidmat MACCS Ltd
HOW IT WORKS
An SMS will be sent out to the member's registered mobile number for each of the following activities, whether done at the branch or on the field by the cash collector:
1. New Member Approval
2. Deposit Collection
3. Deposit Withdrawal
4. New Loan Approval
5. Loan Disbursement
6. Loan Repayment
BENEFITS OF SMS FEATURE
1. Transparency: Members get to know transaction and balance details instantly.
2. Communication: Membership and Loan approvals are communicated to member as and when they happen. No need to follow up repeatedly with the branch.
3. Accessibility: Mobile phone gives the most convenient access to information. No need to maintain passbook or large number of paper receipts.
4. Technology: All modern banks use SMS technology for transactions. Now we are able to provide the same to our members.
5. Trust: Member trust is increased even more when an SMS is sent directly from the system.
6. Efficiency: The cash collectors need not give any printed receipts as the SMS will act as a receipt. They can work more efficiently and spend their time on providing better services to members.
7. Member Experience: The overall experience of the members will be enhanced with the SMS feature providing all the above benefits.