The program is launched under the Livelihood division of Human Welfare Foundation TS & AP with an objective of providing an opportunity for deserving youths to join Telangana State Police. The job gives excellent career prospect and remuneration.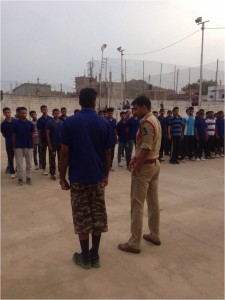 Highlights of the training program:
Location: Hyderabad
Number of candidates: 70
Full-time, residential, intensive training
Training institute with experts having vast experience
Free training with lodging and food
Entrance Test to select the best candidates
10 Districts to conduct the test on 30-Aug-15
Selection Process:
Apply for the exam using this form Please read the terms and conditions carefully.
Submit photocopy and show original degree certificate
Physical measurements must meet minimum requirements
Examination test scores will be used to select the top 70 candidates
Selected candidates sign legal bond for Rs. 20,000
Examination centers:
Sl. #
Dist name
Registration Center
Exam Center
Email
1
Karimnagar
Huda High School
Same
smoinahmmed75@yahoo.co.in
Sawran St.
2
Nalgonda
Vidya Grammar
Same
mnali7386@yahoo.com
High School, Ansari Colony
3
Sangareddy
Intelli Public School
Same
mganwar1970@gmail.com
Ahmed Ngr, Near ITI,
4
Adilabad
JIH Office, Madina Masjid
Crescent Jr college
tanveer.adb@gmail.com
Netaji Chowk
Near rytu bazar
Vinayak chowk
5
Tandur, RR
Samad Function Hall
Same
igctdr@gmail.com
Complex Shop #1, Near
Railway Stn
6
Mahabubngr
IGC Ground floor, Sardar
Same
syedyounus.mahr@gmail.com
Heights, near Bhavitha
Jr. College, New Town
7
Warangal
IIC Warangal
Modern High School
mksjih@gmail.com
8
Khammam
Islamic information center
Oxford Public school
imtiaz507@gmail.com
Khasba bazar
Old club road
9
Nizamabad
JIH office, Ahmadi bazar
Crescent Jr. College
ishaqhussain16@gmail.com
Masjide-Raza Baig
Qila Road
10
Nampally
Masjide Azizia, M Patnam
Masjide Azizia Cellar
jihnampally@gmail.com
11
Bahadurpura
Islamic Library, Basti Nabi
Darul Falah High school
Kareem, beside Eidgah, Tadbun
Osman bagh Kamatipura PS
12
Khilwat
 Jamat – e – Islami Hind
 Standard Public School
Charminar
 Chatta Bazar
 Near Khilwat Ground
13
Golkonda
Alkhair office. Golkonda
Same
muneer_uddin_mohammed@yahoo.co,
14
Malakpet
Islamic Library Masjide Ujaleh
Same
emkebaig@yahoo.com
Shah, Malakpet
15
Secbad
Afalah High School,
Same
alifarooq.syed@gmail.com
Lalapet